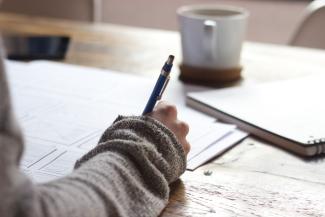 Loan forgiveness for educators and other public employees
If you work for a public school, non-profit 501(c)(3), military, non-profit hospital, or government entity, you may be eligible for one or more loan forgiveness programs that can help you lower your monthly payments and pay off your student loans more quickly.
See a few examples of how our financial professionals have helped clients, just like you, tackle their student debt:
Did you know that….
Student loan debt accounts for $1.5 trillion dollars, while auto and credit card debt total up to only $1.2 trillion and $900 billion?
Educators, or other public service employees with a student loan balance of $50,000 are expected to make payments as high as $600/month under a standard repayment plan?
It's time to change that. Getting an education doesn't have to mean having to give up control of your finances. Equitable partners with StudentLoan Tech to simplify the process that can help potentially reduce your student loan payments, with options such as:
Public service loan forgiveness
Borrower must work full time in Public Service which is non- profit 501(c)(3), military, public schools, non-profit hospitals, or government.
Loan repayment plan type must be one of the four IDR plans or the 10 year standard repayment plan. 

120 qualified payments.  Payments must be made within 10 days.
Teacher loan forgiveness
5 Consecutive teacher years in a Title 1 School
Math, Science, or Special Ed $17,500 forgiven
Any other subject $5,000
Let us help you
When you're ready to tackle student loan debt, our financial professionals have tools and resources to see if you qualify for a forgiveness program. Contact your financial professional to get started today.
https://equitable.com/microsite/student-loan-forgiveness
1 Source: "The State of Student Loan Debt in 2018 Report", www.makelemonade.com
2 LIMRA, Not-For-Profit Survey, Q3 2017 results, based on 403(b) participants and contributions.
Equitable, Equitable Advisors and its associates do not provide tax or legal advice.
Client examples are for illustrative purposes only. Individual cases will vary.
Equitable Financial, Equitable Advisors and its associates do not provide tax or legal advice.
Student loan forgiveness services are offered through StudentLoan Tech. StudentLoan Tech helps to determine your eligibility for the Federal Student Loan Forgiveness programs. StudentLoan Tech is not an affiliate of Equitable Advisors, Equitable Financial or its affiliated companies. Neither Equitable Advisors, Equitable Financial nor its affiliates are responsible for the output or enrollment documents provided by StudentLoan Tech.
Equitable Financial Life Insurance Company (NY, NY). Distributors: Equitable Advisors, LLC and Equitable Distributors, LLC (members FINRA, SIPC). Equitable, Equitable Advisors and Equitable Distributors are affiliates and do not provide tax or legal advice.
© 2020 Equitable Financial Life Insurance Company. All rights reserved. 1290 Avenue of the Americas, New York, NY 10104, (212) 314-4600
GE-3189129 (08/2020) (Exp. 08/2022)